Notes from IFPAC `06 (after the fact) and applying PAT to vaccine manufacturing
Had hoped to blog directly from this year's IFPAC conference on process analytics, but here are some observations. For more, read an
interview with FDA's PAT Team leaders
Chris Watts and Ali Afnan,
Emil Ciurczak's update
and
podcast,
as well as an interview with
Mathieu Streefland of the Netherlands Vaccine Institute
, whose team is applying PAT to pertussis vaccine manufacturing. There was still some "rehashing" of the "PAT story" and some of the "preaching to the choir" that Mr. Ciurczak had railed against last year. Virtually every presentation included some snide reference to "the folks in QA" (i.e., the chemists who are slow to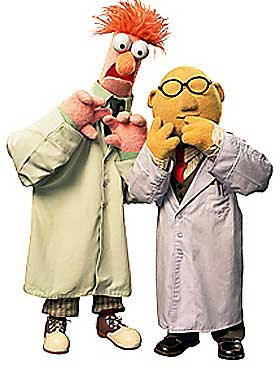 catch on to concept of PAT and advanced process control---or Dr. Bunson Honeydew and Beaker, left). Yet, there were many more presentations this year, and many addressed very practical topics and issues of interest to management. It was clear that the democratic process behind ASTM's E-55 committee, including its new subcommittee on quality, is likely to change the way that the drug industry thinks about quality and compliance. Former FDA Deputy Director of OPS at CDER, Ajaz Hussain, now VP of development at Sandoz, was there to discuss PAT and quality by design. It will be interesting to see how his team applies these concepts, and advanced analytics, to biosimilars development at Sandoz. Some highlights:
Pfizer's Martin Warman's discussion of the true costs of PAT. An analytical instrument that costs $100,000 will typically mean a $325,000 installation---with $50,000 going to internal configuration costs, $100,000 for qualification and validation and $75,000 in engineering costs. Pfizer has developed a template for IT connectivity that is now being discussed by ASTM's E-55 Committee and would result in universal IT interfaces for PAT. Pfizer is also leading the effort to establish requirements for PAT instrumentation. Vendors at the conference showed mixed reactions, with some enthusiastic, but others saying that they didn't like one large customer, albeit an extremely important one, dictating the way they handle projects (since pharma is only one of many industries they sell to).
A presentation on "technologies of the future" by Terry Krouth of Emerson,who discussed the key drivers: digital connectivity, predictive capability and ease of use. Wireless connectivity is to be the "next big thing," he said, dismissing concerns about security. Among trends to watch for will be "smart objects" for diagnostics, enabling the development of "intelligent alarms."
An entertaining presentation by consultant Ken Leiper, who presented a concise review of what brought about PAT and 21st century GMPs in the first place, and the best redefinition of a pharma acronym at the show (GMPs as "great mounds of paper"), while discussing the vendor certification program now in progress. It was interesting, in the Q&A after his paper, to note how few of those in the audience's companies were doing "process capability analyses," which are considered a key foundation for PAT.
Presentations by Julie Manley of the Green Chemistry Institute, that showed the environmental benefits of PAT.
A presentation by Gawayne Mahboubian-Jones, which addressed the need to adjust any proposed PAT project to the overall corporate business model.
Innovative technologies were also in evidence, including miniaturized spectrometers incorporating MEMS technology, a legacy from telecom. We'll be covering these and many other topics that were presented at this year's program, in
Pharmaceutical Manufacturing
and
PAT Insider
this year. -AMS